WIND CONES
AL-100 wind cones are long-lasting, all weather devices built to rugged specifications and designed for easy installation and low maintenance.
Description
They are available in lighted and non-lighted configurations. The masts are fabricated of high grade steel, and are welded to produce a strong and stable frame that will provide maintenance free service for years.

The top section of the unit pivots on a simple low-friction grease fitting that is uncomplicated and reliable.

The mast includes a built-in pedestal, and is hinged so that it can be tilted down, making it very easy to attach a new wind sock.

The entire frame is protected with a high grade undercoat and a finish coat of enamel.

We can accommodate special mounting requirements as needed.

Valley Illuminators wind cones are designed and built to NASAO and FAA specifications to withstand winds in excess of 100 M.P.H. And, like other Valley Illuminators products, they are protected by a 2-year limited warranty.
FAA L-807 Type II Windcone Assembly
MANUFACTURED AND DESIGNED BY VALLEY ILLUMINATORS INC., TO COMPLY WITH THE FAA GUIDLINE ADVISORY CIRCULAR 150/5340-23B, FOR SUPPLEMENTAL WIND CONES. THEY ARE CONSTRUCTED TO WITHSTAND WIND LOADS GREATER THAN THE CIRCULAR SUGGESTS, AND WILL OPERATE FULLY IN ANY KIND OF WEATHER.

THE CONE FOR THE WINDSOCK IS FABRICATED OF A LIGHT WEIGHT TUBE AND WELDED TO THE BEARING TUBE WHICH IS LINE BORED TO ENSURE THAT IT WILL ROTATE FREELY ON ITS SEALED BEARINGS. THE BEARINGS ARE ADDITIONALLY SHIELDED FROM THE ELEMENTS.

THE SUPPORT STRUCTURE IS HINGED AT THE BASE SO THAT IT CAN BE EASILY LOWERED FOR SERVICING, AND IS PROVIDED WITH A SUPPORT TO KEEP THE WINDSOCK FRAMEWORK FROM TOUCHING THE GROUND. THE ENTIRE TOWER IS CONSTRUCTED OF CERTIFIED A-500 STEEL AND WELDED PER GSE SPEC A00001 CLASS A. THE COMPLETE ASSEMBLY IS THEN SAND BLASTED AND POWDER COATED SAFETY ORANGE, TO RESIST ALL CORROSION.
ALL MOUNTING HARDWARE IS INCLUDED AND MEETS OR EXCEEDS SAE GRAOF, 9 STANDARDS. ASSEMBLY INSTRUCTIONS AND PARTS LIST INCLUDED WITH EACH UNIT. 3 YEAR WARRANTY ON PARTS.

ROUTINE MAINTENANCE AND WINDSOCK REPLACEMENT SUGGESTED.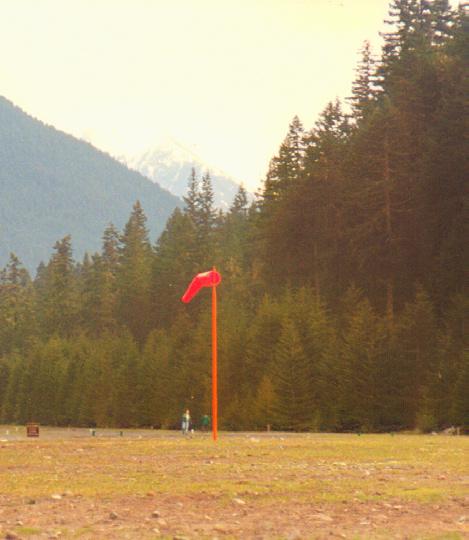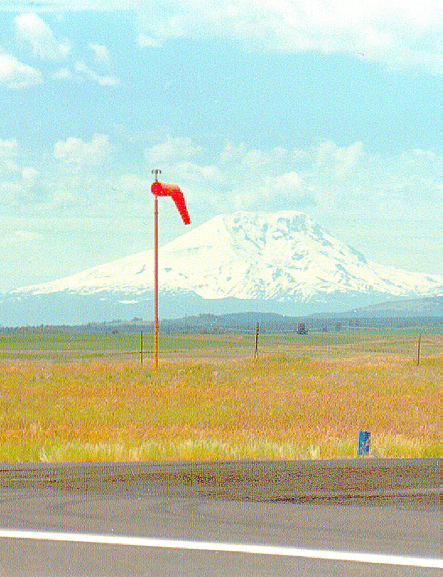 Installation
Cement anchor bolts in foundation, using base plate for template. - Attach base plate and level it. Install leg for service to the pole. - Assemble the pole to the base using the pin through the hinge. - Attach basket assembly to top of pole. - Secure wind sock to basket assembly and raise to upright position. Bolt to base and shim to plumb pole.
Product List
| | |
| --- | --- |
| PART# | ITEM |
| AL-100WC | Wind Cone (unlighted) |
Complete with all mounting hardware & templates for installation.

(Contact us for prices)
WIND SOCKS
The windsock fabric is a 500 x 500 count denier polyester cloth, urethane coated. The coating is international orange pigment urethane finish, dyed with a UV inhibitor and a plain weave.
The wind socks are reinforced at the throat with a double thickness of polyester, high strength webbing, triple stitched with weather resistant nylon thread.
The colorfast warp and fill exceeds strength requirement.
Product List
| | |
| --- | --- |
| AL-100WS | WIND SOCK (18" X 8') |
| AL-100WSL | WIND SOCK (36" X 12') |
(Contact us for prices)
Product Data Sheet
| | |
| --- | --- |
| PRODUCT NAME: | FILAMENT POLYESTER |
| TYPE OF GOODS: | 500 X 500 DENIER POLYESTER |
| COATING: | PIGMENT URETHANE |
| FINISH: | DYED, DWR, U.V |
| INHIBITOR WEAVE: | PLAIN |
(Contact us for prices)